Sunday, September 12, 2010
Simple Sunday Hop!!
Welcome to the Simple Sunday Twitter Hop!!
This is hosted by:
sjunkie
betweenthelines
itsmemelbie
crazyjayzplace
With this week's Guest Host Kari:
shining2save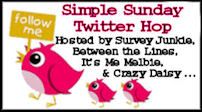 Grab a cup of coffee & join us every SundayYou can gain new Twitter followers, find some great blogs & bloggers in the process.
Have Fun !!!
Plus every week we will draw a random guest host to fill our #5 seat :)
How it Works
1. Follow blogs 1 -5 ( we will follow back )
2. Add your Twitter URL ( not your blog url or giveaways)
3. Snag our new button to use in a post about the Simple Sunday Twitter Hop
4. Follow as many ppl. as you would like & follow everyone back that follows you :)
( This is not a giveaway linkup & anything other than your Twitter url's will be deleted )