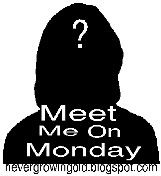 I am so excited coz this is my first attempt to join MEET ME ON MONDAY! whew!so here goes my share of answers!
1. Do you wear socks to bed? NO!living in a tropical and humid region of the Philippines makes it really hard to wear socks to bed! lol! but of course, it would be great to wear them if there's airconditioning on!
2.Do you have any pets? At this time,I don't have pets especially because the doctor recently told me to avoid them because my sons tend to develop mild asthma so easily! but frankly, i adore dogs, especially the furry,fluffy ones!!
3.What toppings do you like on your pizza? GEEZ, I LOVE PINEAPPLES! So it would be hawaiian delight for me!lol! I once worked for Shakey's Davao and judging from the variety of toppings I think I'd settle with pepperoni and ham,too!lots of it!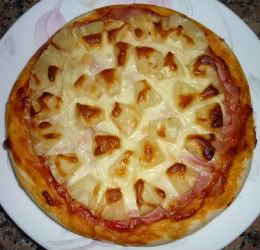 4. What time do you go to bed? I normally doze off at 10pm but sometimes earlier, especially if I'm really tired!!!
5. Would you rather get free chocolate for 1 year or free potatoes forever? GEEZ,THIS IS KINDA TOUGH! i do love chocolate but over indulgence could mean danger especially to my health so i guess I'd settle for a lifetime of potatoes!lol!
So,how bout you our friends? Would love to hear your thoughts and link in here
nevergrowingold
so we can all get together and know each other more!