I stumbled upon these gay-colored, cute pieces through a cousin of mine who's selling them at very affordable prices. These are coin purses,wristlets and sling bags made from colored plastic beads in a variety of colors and designs. I, for one, am very fond of these type of accessories, well,who wouldn't be when you're the usual thirtyish woman or just simply a woman with a love for whims such as these! ha,ha! I was the more curious about this when I found out through my cousin that the makers of these gay-colored accessories are women inmates of a local prison center in our area here in Davao. Hmm, a very great way to express their creativity and talent despite the situation that they're currently in.It is very great to know that they have come up with this kind of livelihood project that will not only hone their skills but will also benefit them financially.
Appreciate if you can take a look at the following pieces.Anyone interested to know about the prices just send in your messages, I'd be more than willing to accommodate your queries.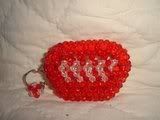 The coin purse pictured above is a cute little purse and can be made to order done in specific colors and designs.
The wristlet above can store a number of things such as your cellphone and make up kit to name a few. Very trendy and can be color coordinated with your outfit.
There are various colors and designs available for these accessories and I just adore it! Just some of the things that us women just can't do without!!