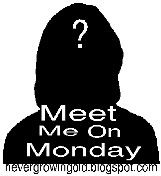 Beautiful Monday To All! Another great way to start our Monday,by taking part in memes like this! Here's my share of answers for this week's questions.
1. What is your favorite way to eat chicken?
My favorite way to eat chicken is when it's cooked adobo style! It's a no-fuss chicken recipe that gets yummier when it's a day older, of course when oven-heated or through the microwave!
2. Have you decorated for Christmas yet?
Yes! We've already put up the X'mas tree, a hand-me-down courtesy of my mother! haha!
3. What is your favorite article of clothing?
I think it would be my sleeveless cotton tops I use at home, especially coz we have a tropical weather almost all year round! And yes, flipflops,too!
4. Do you pay your bills online or write checks the old way?
It would be great to pay bills online.Unfortunately,not all of our bills are paid online as of the moment!
5. Do you make Christmas cookies?
NO!I am not into baking, well not yet! haha! But my sister makes really great cakes and pastries!
There you go,hope I shared something interesting this week!How bout you? Would love to read bout your answers,too! Till next Monday!!