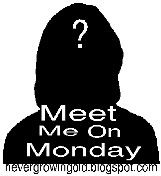 Another great way to meet up and gain new friends online! Here are the five questions for this week's meme:
1) Do you eat Sushi?
Nah!!I don't know what it is with me but I really don't relish the thought of eating sushi! But no offense meant, Japanese food is very creative and delicious in its own right!
2. What kind of bath soap do you use?
I love Safeguard Soap and Olay Age Defying Soap!
3. How often do you talk to your Mom?
Everyday! Especially now that she's retired from government service I often have the time to chat with her. Her house is just few meters away from ours,too!
4. What TV shows do you watch on a regular basis?
I opt for local TV fare such as Showtime and telenovelas during primetime like Imortal especially since we don't have cable service. But reality shows from the U.S. are really great, especially those about dance and yes, American Idol!!
5. Did you start Christmas shopping yet?

Unfortunately not yet! And yet, how I do wish I can start now!
There you go,folks!Hope I've shared something worthwhile in here,haha! Till next week, happy blogging everyone!