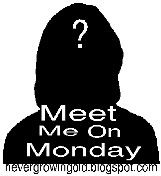 Hey there lovely people!MERRY,MERRY X'MAS!It's kinda late, today being a Wednesday already but hope I can still join in the fun of this week's Meet Me On Monday discussion and topics.Here's my share,too!
1. What will your Christmas dinner consist of?
It has been family tradition for us to have Spaghetti (Filipino style) and Fruit Salad on the table for our Christmas dinner or Noche Buena as we locally call it here. This year we will also have moderate servings of ham and fried chicken, few loaves of bread, some fruits preferrably apples and yes, biko and suman, which are Filipino kakanin or delicacies.
2. Do you watch commercials or flip through the channels?
I watch commercials as I don't have any choice!Haha! But anyways, commercials is a genre all its own, mirrors the values and virtues of a nation and can have underlying messages that aim to educate and inform people.
3. How long will you leave your Christmas decorations up?
We usually leave the decorations up until the first week of January just before the Feast of the 3 Kings which usually falls on the first Sunday of January. The Christmas Season is definitely one of the looongest celebration here in the Philippines!
4. What movie makes you cry every time you watch it?
I easily cry when I watch romance flicks with a rich dose of drama and conflict. So far two flicks that come to mind are the following: Bridges of Madison County and Serendipity. I cried maybe a bucketful of tears back when I first watched these flicks! Everytime I have the time to watch it these days it's still the same though, lotsa tears! :)
5. Do you have a Facebook?
Yes, I do! Add me up at FB,okay!! ha,ha!
Well,well! That's about it,hope you liked my share for this week's MMOM! Till next week, have a great day everyone!!