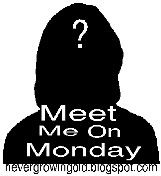 Hey there my friends!It's Monday once again! Here are my answers for this week's meme hosted by pretty Java...pls do read on!!
1. What is your favorite kind of cheese?
My favorite kind of cheese is definitely cheddar! I even gobble it, even without bread on! haha! mousy me!
2. What size is your bed?
It's a double sized bed just right for me and my hubby!But oftentimes it can become a foursome bed! With the 2 kids trying to squeeze in!
3. What is your most overused phrase?
Hmm, I think it is BUANG!( Cebuano word which means,"crazy"!!!) wahaha!
4. Green or purple grapes?
Purple grapes!! I just love them!
5. Shower, morning or night?
I definitely shower in the morning! But sometimes I can't help but shower again at night especially during really warm weather. A quick shower refreshes and energizes!!
HOW BOUT U MY FRIENDS!!It sure is fun to know a little more about yourselves! Till next monday!! :)