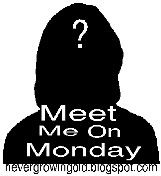 Happy New Year Everyone!What a great way to meet the New Year, by getting to know fellow bloggers from all over the globe! Here's my share for this week's MMOM!
1. What are your New Year's Eve plans?
We will have an early dinner at my mom's place and then head back home just before the clock strikes 12 midnight! This is because it's our family tradition to be at home by midnight and open all the doors and windows! Aside from that, we make all kinds of noises such as fireworks,firecrackers,blow horns and toss coins at the front door! Whew, talk about rituals for goodluck!!
2. How tall are you?
I'm just about 5 feet and 2 inches, really petite!
3. What is your favorite pudding flavor?
Choco pudding for me!!
4. What room of the house do you blog the most in?
It would be at the receiving room. Hopefully, if I get to have my own laptop I can do blogging anywhere even at coffee shops!
5. What is your best physical feature?
Wooh,this is kinda hard! haha!But I guess it would be my eyes, since I get a compliment or two everytime, especially with eyeshadow on since it highlights my eye color!
Well, that's it my friends! How bout u!Would be glad to hear from you,too! Have a great day everyone!