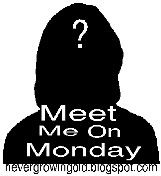 Happy New Year Everyone!It's a rainy,chilly Monday down here at my end but I won't be singing Rainy Days and Mondays, coz definitely it doesn't make me down! nah,no way! Especially with a fresh batch of MMOM questions for us, woohoo!! So,here's my share of answers!
1. Do you have any New Year's resolutions?
I don't actually call it resolutions but a wish list! hehe!But I have to agree with Java,goals is more like it! This year I intend to pursue money-making activities, be more physically active and commit myself to a fitness program! To top it all, I wanna learn bellydancing,too!Don't ask me why!haha!
2. What food item are you craving right now?
I'm craving for PIAYA right now! It's flat,unleavened bread with muscovado(raw sugar) filling. It's a snack delicacy from Bacolod and Iloilo Province and well-known all over as a "pasalubong" (souvenir) snack treat.
3. When is your birthday?
My birthday is May 13th!Sometimes it's a Friday the 13th but I don't mind at all,for me it's a day of goodluck! Celebrities who have the same birthdate as mine are Stevie Wonder and Rob Pattinson of "Twilight"!!
4. What were you doing an hour ago?
An hour ago I was watching TV!!
5. Last thing you cooked
The last thing I cooked was...guess what!!Rice!!steamed, that is.It's the star of the show, so to speak, during mealtime! The food? Well, my hubby will have to take care of that.He's the chief cook, I am just the assistant! hehe
So! That's it!Hope I shared something worthwhile!It would be great to hear about your answers,too!Have a great week ahead!!