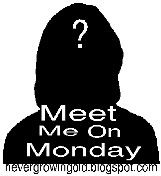 Welcome again to MMOM!Hope you're all doing a-ok! Here's my entry for this week's discussion/sharing.
1. Do you like your ice cream in a dish, waffle cone, pretzel cone, sugar cone or cake cone?
I like my ice cream in a waffle cone! There's a certain ice cream product we call drumstick here which i just simply love!It's already wrapped in waffle cone and comes in either vanilla or chocolate!
2. Do you read the newspaper daily?
I love reading newspapers but I don't do it on a daily basis.What I do is, if I have ample time to read I read back issues that keep on piling up at our place!
3. Marinara or meat sauce? MEAT SAUCE PLEASEEE!!
4. Last time you cried? When I watched teledramas on TV!
5. What word/phrase do you find really annoying? I cannot totally recall an annoying phrase because for me it's forgivable. What I cannot tolerate is an annoying person!! graaa!
So that's it guys!!Hope you liked my entry.How bout u?Would love to know your choices! Have a great Monday!!