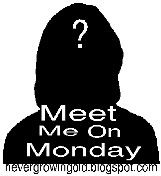 Hey there,friends! Another great Monday is here to stay! Here's my share for this week's blog meme.
1. What is your favorite kind of fudge?
Definitely it's choco fudge for me!
2. Is there snow outside your window?
NAH!In all of my 37 years of existence I haven't experienced a bit of snow! Wish we had snow though! But our country thrives with only 2 seasons, dry/summer and wet/rainy so no choice! lol!
3. What is your favorite meal of the day? Definitely lunch time!Because we usually have tinolang manok (steamed chicken), stew or some soup!
4. Do you text on your cell phone?
No questions, I'm an avid texter!Especially since calls are kinda expensive. With all text prepaid cards I get to text more! hahaha!
5. Waffles or pancakes?
Waffles are yummy but pancakes are the best!! I especially love waffles swaddled with lotsa lotsa maple syrup!! Oh geez I'm feeling hungry now!
How bout you my friends!Would love to know your thoughts on these,too! Do link up and enjoy your visit! Kudos to lady Java!