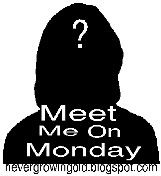 A rollickin' Monday to all!The love month is here to stay so I wish you all the love in the world!Here's my share for this week's meme!Pls do read on....
1. Did you watch the Superbowl?
Nope, haven't watched it!One reason maybe is because I'm not a big football fan or any sport for that matter.I am more into reality shows that showcase talents and musicality!
2. What is the last book that you read?
The last book I've read so far is Chinkee Tan's TILL DEBT DO US PART,a handy book that discusses how to achieve financial freedom with the help of some practical tips applicable to the local setting. The author is an actor turned-entrepreneur-cum motivational speaker.
3. What is your favorite kind of cake?
Definitely it would be chocolate moist cake baked by my sister Sandra!She whips up sweet treats in a whiff!It is an all-time hit and best seller among friends and customers,too!
4. Do you snore?
NO AND A BIG NO!Sadly, my hubby snores and my how he snores!!Good thing I have gotten used to it as years go by it even lulls me to sleep!!
5. Do you play an instrument?
Currently no, but when I was this tall I took up piano lessons and briefly played the guitar and ukulele with the help of my uncle who mentored me.The years of non-practice has made me forgot all about playing such instruments though! But I am bent to learn the guitar again!!!
There my friends,hope I shared something worthwhile here!How bout you,would love to know your side,too!! Have a really great Monday ahead!!!