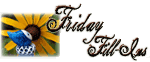 Hi everyone, this is my first time to join this meme so my apologies if I may have some misgivings and whatever! lol!
And...here we go!
1.
Pardon me
, but I've been really dilly-dallying lately with regard to keeping up with my hip hop abs sessions!
2.
I hope to scout around for great garage sales and hopefully stumble upon a great find and hopefully, a

good deal
.
3.
I was surprised to find that I really like
rummaging over old mementos and photos of yesteryears.
4. Listening to jazz and acoustic music
is one of my favorite forms of entertainment
.
5.
Hi, my name is
Shawie Girl and I'm a full-time mother and wife while at the same time a part time blogger (and loving it!).
6. I make it a point to have siesta (afternoon nap) with my kids on humid,
summer afternoons.
7.
And as for the weekend, tonight
I'm looking forward to finishing some online articles,
tomorrow my plans include
doing house chores and
Sunday, I want to
attend Easter Mass with the whole family!
That's it, my friends! Hope I was able to do justice for the fill-ins! Whew it sure was fun!